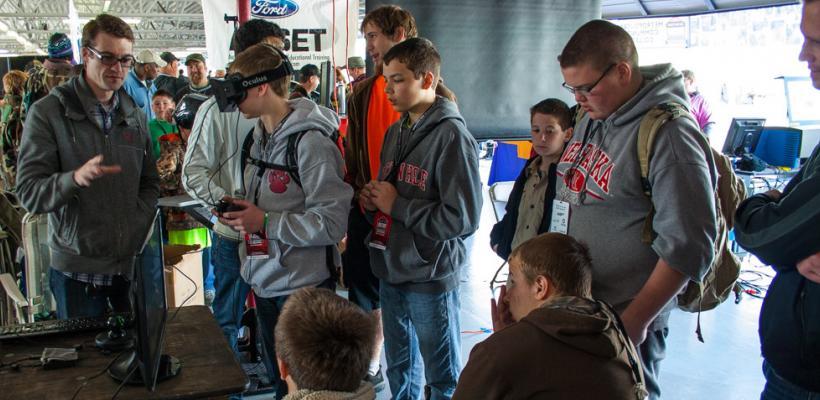 At Scouting 500, Saturday, May 17 at the Kansas Speedway, more than 600 scouts took a virtual tour of a stadium being designed by 360 Architecture that won't be built until 2017. The simulation, developed by PocketCake, was part of the Careers and Education section at Scouting 500, a first-time event that attracted approximately 15,000 scouts from all across the Midwest. PocketCake's virtual reality services, coupled with the Oculus Rift, allow users to inhabit real space, walking wherever they want. "I came over here because of my interest in architecture," said Tommy Starkes, 17. "Now, I think I'd rather do what these guys get to do for a living."
Starkes was referring to PocketCake's programmers, Parth Patel and Jonathan Hockman. "I'm impressed by the depth of understanding about this technology among young people," Hockman said. "They know nearly as much about this stuff as I do."
From 9 a.m. to 4 p.m., Patel, Hockman and PocketCake employees Hugh Welsh, Kim Allen and Cordell Pointer guided scouts through the simulation. It wasn't long before they imposed a one-minute time limit. "We allowed the first few scouts to take their time going through the simulation," Hockman said. "And then I noticed the line was growing exponentially."
Suddenly, there were 30 individuals waiting their turn. For the remainder of the day, despite the one-minute rule, there were never fewer than 10 individuals in line. "It felt like we were operating a popular amusement park ride," Welsh said.
The representatives of 360 Architecture were as smitten by the simulation as the scouts. Tim Meyers, a senior designer with 360 Architecture, wore the Oculus Rift headset on three separate occasions Saturday. "My excuse was that I am designing the stadium and therefore needed to use the technology to gather information," Meyers said. "The reality is that I'm addicted to the immersiveness of the experience."
Virtual reality's far-reaching role was apparent to many of the scouts, who, of course, were most intrigued by what it means for game development. "I've been following this for a long time and cannot wait until they make Call of Duty into virtual reality," said Todd Oporum, 12. " I think everyone will eventually own an Oculus and use it for all kinds of stuff."
Sponsored by the Heart of America Council, Scouting 500 included an array of activities intended for scouts of all ages. Approximately 15,000 people attended. To learn more, please visit: www.hoac-bsa.org/scouting-500.